3 Tier Trolley with Stainless Steel Lined Shelves
Product Code: Q007
Unique combination of practical stainless steel with the beauty of real wood
Hard wearing stainless steel lined shelves
Heat resistant
Easy to clean
Choice of wood colours to alter the look
Extremely durable
84cm x 44cm x 87cm high excluding handle.
About the Quantum Range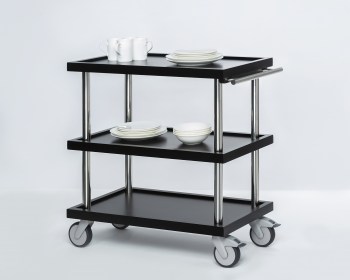 Smart service and clearing trolleys ideal for corporate and conference dining. Varied choice of real wood, laminates and stainless steel lined shelves for easy cleaning, hygienic solutions.
A selection of our trolleys