Cheetah Modern Sweet Trolley (Ambient)
Product Code: CHM03A
Elegant compact and contemporary look for this ambient sweet trolley.
Hygienic and appealing display of desserts.
Acrylic top opening from both sides to maximise ease of service
Available with stainless steel or brass handles.
Walnut or black colour as standard but a variety of colours available.
Approximate size: 92 x 44 x 117cm high (excluding handle)
About the Cheetah Range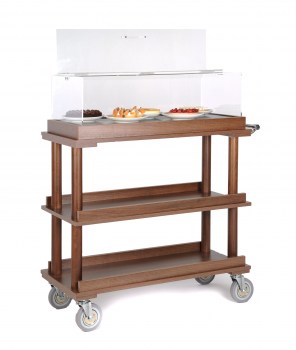 A range of catering, sweet, drinks, service chilled and cheese trolleys. Modern and classic styles available in a variety of colours.